Balladair
Registered
Bichon Frise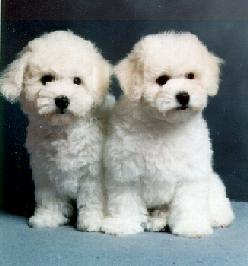 Balladair Bichon puppies at 12 weeks





Visit our new website at www.balladair.com
(no more popups or ads!)
This is an old website, not updated

Welcome to the Balladair website. We raise quality Bichon Frise in Regina, Saskatchewan, Canada. We have had Bichons in our home since 1983, although we did not breed our first litter until 1987. We strive to produce healthy, happy, beautiful Bichons, raised in a loving home environment. We test eyes, knees and hips to ensure our puppies are the healthiest! Balladair Bichons are winning show dogs and beloved pets across Canada and the US.






The Bichon Frise is a small, sturdy, white powder puff of a dog. Its well-plumed tail is carried jauntily over the back. The Bichon's plush white coat is non-shedding, non-allergenic, and odourless. The height at the shoulder is between 9 and 12 inches, and the weight, between 10 and 15 pounds. Bichons are intelligent, playful and affectionate. A cheerful attitude is the hallmark of the breed.



Meet all the dogs

See our puppies

Up and Coming for 2004!

See our Afghan Hound Chili

Pictures at home

Past Champions

Current Canadian Conformation Stats

Links
We are proud to have been awarded the Pedigree Top Breeder award for 1996 for Bichon Frise in Canada. I'm a member of the CKC, BFCC, and BFCA. Please drop me a line if you're interested in chatting about the Bichon or would like to get more information.


Julia Dickinson
Balladair Reg.
Emerald Park, Saskatchewan
Canada
(306) 781-2760


Write to me at: balladair@sasktel.net



or sign my guestbook!
This page has been viewed
times......


No photographs may be copied from these pages without
the written consent of Julia Dickinson